PRO
The diagnostic tool for your FORD
SUMMER SALE!
only 125 instead of 159 $
For 32+ car brands
Scan all control units
Read & erase fault codes
For your brand
Service reset
Sensors & actuators
Special functions

$159.00
only $125.00*
Fast international shipping with DHL
30 days return policy
Excellent customer support
2 years warranty on the hardware
PRO simply offers more
Live your passion for car maintenance like never before! With the autoaid PRO diagnostic tool, you will get more functions for your specific car brand. From in-depth scanning of all control units to reading and deleting fault codes, performing the service reset, accessing sensors and actuators, and through to all the special functions (e.g. regenerating diesel particle filters, training injectors, or opening the electronic parking brakes). It's all available at the best price right here in the shop.
"Incredible, how much you can read out with autoaid! The quality/price ratio is amazing"
Roberto Tesic, Automotive Technician
It's really this easy:
Plug the OBD2 cable into the car and the USB cable into a computer...
...and the diagnosis can already get started!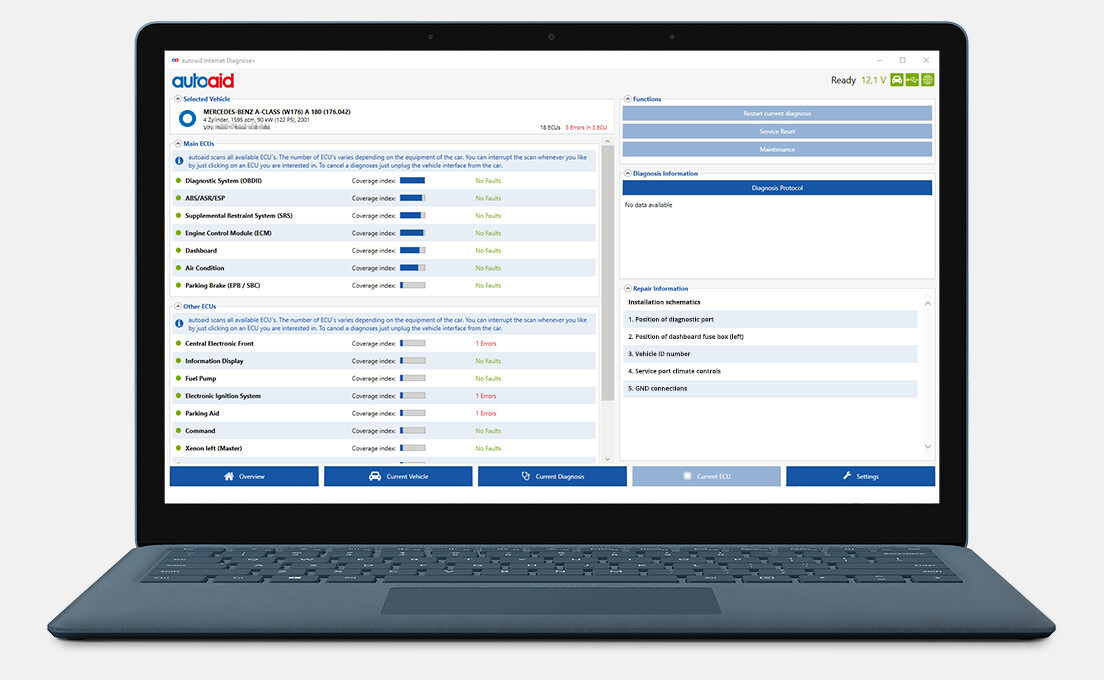 Brand coverage
Alfa Romeo
Ford
Mini
Seat
Audi
Honda
Mitsubishi
Škoda
BMW
Hyundai
Nissan
Smart
Citroën
Kia
Opel
Volkswagen
Dacia
Mazda
Peugeot
Volvo
Fiat
Mercedes-Benz
Renault
and more

Our most popular car makes
ECU Coverage**
ABS/ASR/ESP
Air Condition
Alternative Fuel Control Module
Audio
Auxiliary Air Heating
Central Electronic
Central Electronic 2
Dashboard
Diagnostic System (EOBD/OBDII)
Diesel Additiv System
Door Control Front Left
Door Control Front Right
Door Control Rear Left
Door Control Rear Right
Engine Control Module (ECM)
Front Control Panel
Front Display (FDIM)
Gateway
Headlight Range Adjustment
Information Display
Light Control Left
Light Control Right
Multipurpose Receiver Module (RFA)
Parking Aid
Parking Brake (EPB / SBC)
Power Steering
Remote Heating Ventilation Air Condition
Remote Keyless Entry
Seat Driver
Side Obstacle Detection Control Module Left (SODL)
Steering Wheel Angle Sensor
Supplemental Restraint System (SRS)
Trailer Control Unit
Transmission
Voice Control
Coverage**
FORD C-MAX (DM2)
FORD C-MAX II (DXA/CB7, DXA/CEU)
FORD FIESTA VI (CB1, CCN)
FORD FOCUS I (DAW, DBW)
FORD FOCUS C-MAX (DM2)
FORD FOCUS I Turnier (DNW)
FORD FOCUS II Convertible
FORD FOCUS III
FORD FOCUS III Turnier
FORD FOCUS I Saloon (DFW)
FORD GALAXY III (CK)
FORD GALAXY I (WGR)
FORD GRAND C-MAX (DXA/CB7, DXA/CEU)
FORD KUGA I
FORD MONDEO III (B5Y)
FORD MONDEO III Turnier (BWY)
FORD MONDEO III Saloon (B4Y)
FORD MONDEO IV (BA7)
FORD MONDEO IV Saloon (BA7)
FORD RANGER (ER, EQ, R_)
FORD RANGER (ET)
FORD S-MAX (CJ, WA6)
FORD TOURNEO CONNECT
FORD TRANSIT V363 Van (FCD, FDD)
FORD TRANSIT Van (FA_ _)
FORD TRANSIT Bus (FD_ _, FB_ _, FS_ _, FZ_ _, FC_ _)
FORD TRANSIT V363 Bus (FAD, FBD)
** Availability depending on model, engine, and configuration.

32+ brands, 2500+ models
autoaid car diagnostic tools work with vehicles from more than 32 car brands dating back from the year 2000 to today. With PRO, you will get all the functions for the brand of your choice. Here you can find the list for vehicle coverage
More features, best price
Our PRO tools are so popular for good reason. From the control unit coverage to the service reset and all special functions, you won't find a comparable device at a lower price.
Upgrade at any time
Want to add more brands to your PRO tool? No problem - this can be done at any time with just a few clicks. And if you want all 32+ brands, you can easily upgrade from PRO to EXPERT. It's always flexible.
10 years of experience
Ten years of experience have gone into autoaid's car diagnostic tools, and we will continue to develop them from our headquarters in Berlin. The quality of our products is well known through television and trade press.
Technical details
| | |
| --- | --- |
| Dimensions | 55 mm x 25 mm x 12 mm |
| Weight | 200 g |
| OBD2 pins | Full 16 pin set with multiplexer for all pin configurations |
| Cables | OBD2 0.75 m & USB 0.75 m |
| Software | autoaid Diagnostics+ for Windows 7 / 8 / 10 / 11 |
| Requirements | PC, laptop, or tablet with Windows 7 / 8 / 10 / 11 & permanent internet connection |
| Upgrades | Upgrade anytime to EXPERT |
| Quality guarantee | 2 year warranty on hardware (for diagnostic tools) |
Dimensions
55 mm x 25 mm x 12 mm
Weight
200 g
OBD2 pins
Full 16 pin set with multiplexer for all pin configurations
Cables
OBD2 0.75 m & USB 0.75 m
Software
autoaid Diagnostics+ for Windows 7 / 8 / 10 / 11
Requirements
PC, laptop, or tablet with Windows 7 / 8 / 10 / 11 & permanent internet connection
Updates
12 months included, thereafter available as option (for additional new functions & car models)
article.technical.detail.pro1.key
article.technical.detail.pro1.value
Quality guarantee
2 year warranty and 30 day return policy (with direct purchase from the autoaid shop)
*The autoaid diagnostic tools work with your PCs, laptops or tablets running Windows 7, 8, 10 or 11. The autoaid diagnostic software is included as a download. As a cloud-based device, an internet connection is required during the diagnostic process. PRO and EXPERT licenses are billed annually and include all updates such as newly added vehicle models or feature enhancements. Once a year you can transfer your license to a new car make for free if you change your car.
$159.00
only $125.00*
Fast international shipping with DHL
30 days return policy
Excellent customer support
2 years warranty on the hardware