GPS tracker for your car
- without any subscription
Worldwide location and route tracking
Live mode: location every 60 seconds via app
SIM and app for 1st year $70.00, each additional year 39 €
No installation - just plug in and start
Also suitable for tracking entire fleets
No subscription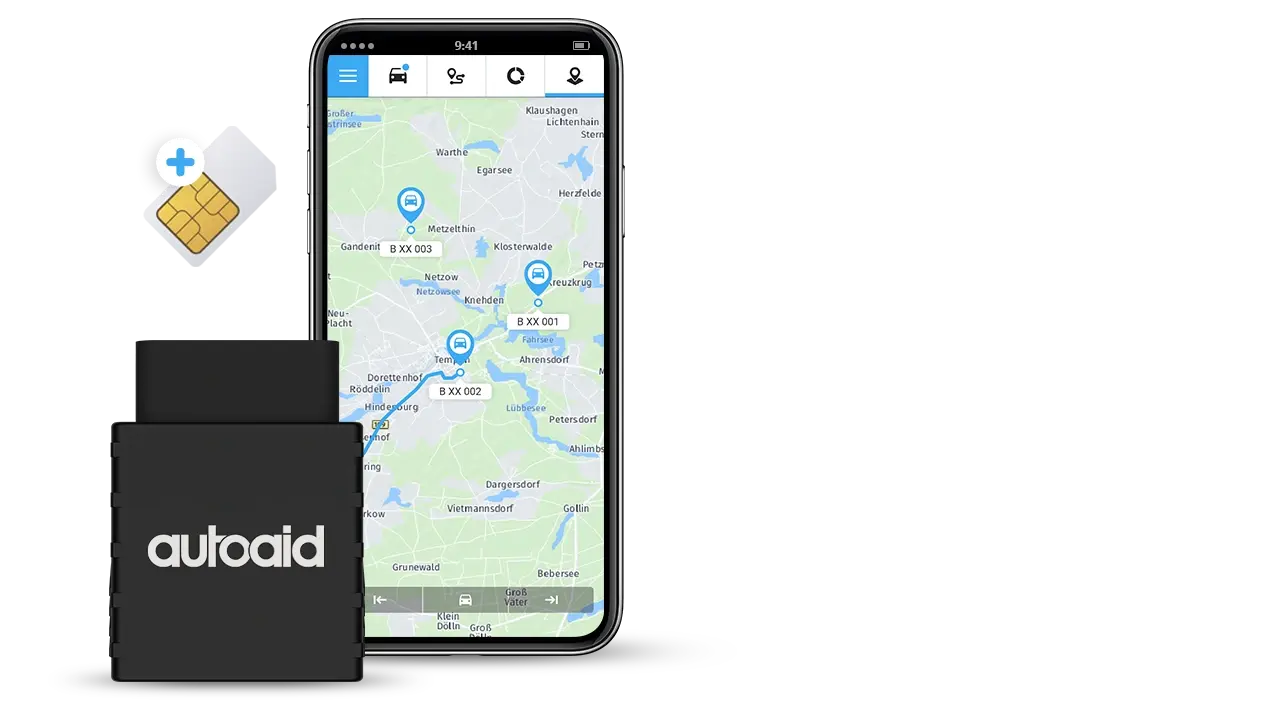 Over 15,000 vehicles already use autoaid. Now you can also benefit from the advantages:

in Germany
Free shipping

in 1-2 working days
Shipping with DHL

return policy
30 days

shipping
Plastic free
Cutting-edge technology
The latest autoaid GPS tracker for your car impresses with even more accurate tracking and the smallest form factor. For more security and protection against theft, it combines the latest technologies with our most popular functions in one device. Thanks to an unlimited range, you can locate your car anywhere in the world, control its use at any time and react immediately in case of theft.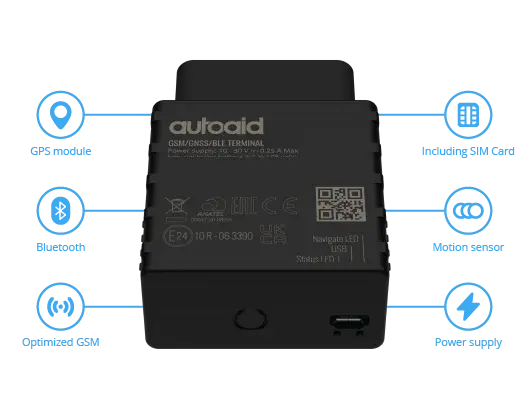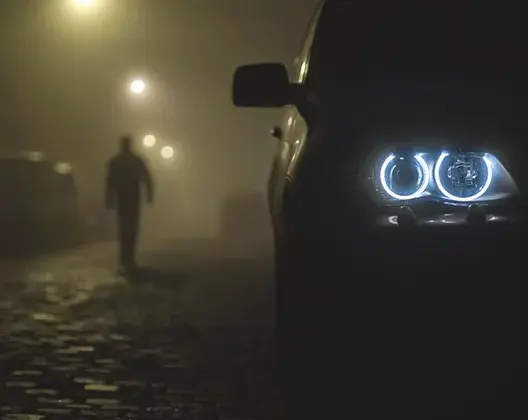 Even more protection and security
With the autoaid GPS tracker you effectively secure your car against total loss in case of theft. Every year, thousands of cars, most of them higly valuable, are stolen in Germany and on trips abroad despite immobilizers and they remain untraceable forever. With our proven autoaid GPS tracker, you can immediately access the current location of your car worldwide in the event of theft and track the stolen car in live tracking on the autoaid app. Inform the police about the current location and enable a quick recovery and return of your car.
Live tracking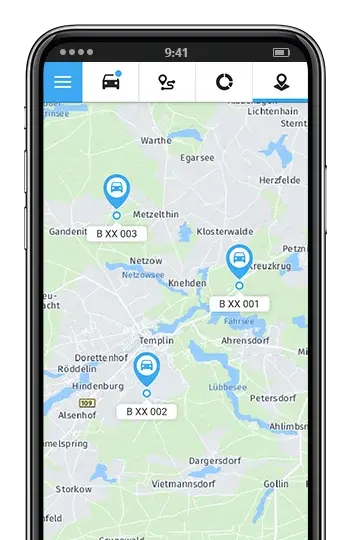 Vehicle status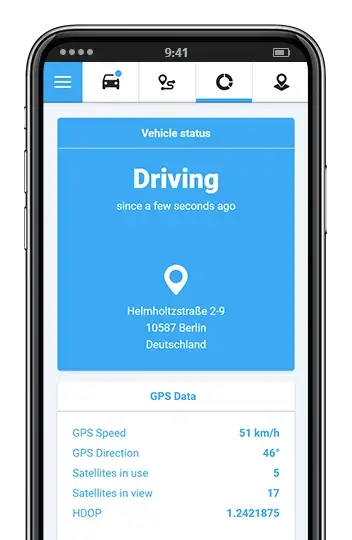 Routes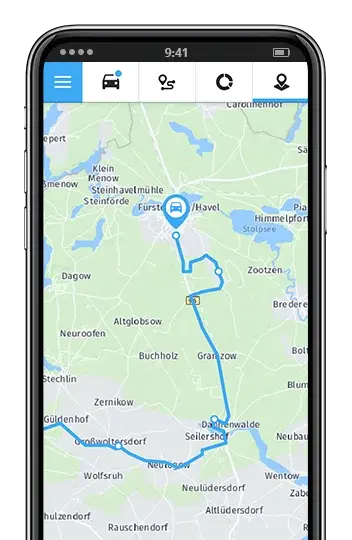 All routes and vehicle movements always in view
Monitor how and when your car is being used at any time - including times, kilometers driven, speed profiles and route progressions. You can see the current position and all routes driven in the last 90 days in detail in the autoaid app. React to speeding violations and inappropriate driving, unauthorized use or unnecessary trips. This way you reduce your costs and increase the safety of your fleet.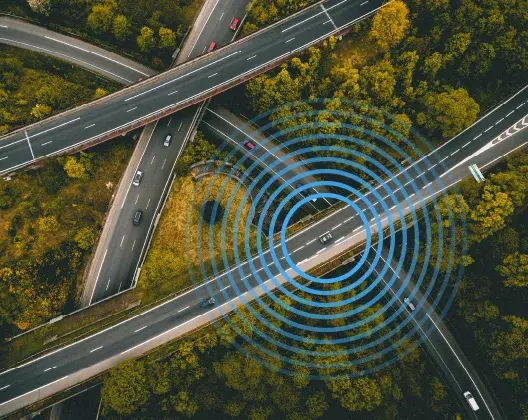 Ready to go, no installation costs
The autoaid GPS tracker is simply plugged into your car's OBD2 interface and is ready to go right away without any technical expertise. This saves you the high workshop costs of a fixed installation and you don't have to make any changes to your vehicles. There is no faster and more effortless way to network your vehicles than with autoaid. You are also protected against possible manipulation attempts: The hardware sends an alarm when it is pulled off, and the system points out gaps in the recorded mileage. Want hidden placement of the tracker for even more protection in case of theft? No problem! In our store you will find the appropriate adapter cables for a hidden installation.
No subscription, no hidden costs
You do not need an expensive subscription for our GPS tracker and its use. There are no monthly costs and everything is included in the one-time purchase price. In addition to the tracker, the app with our most popular features is already included. And for connectivity, the SIM card costs only 39 € with the data volume for a whole year.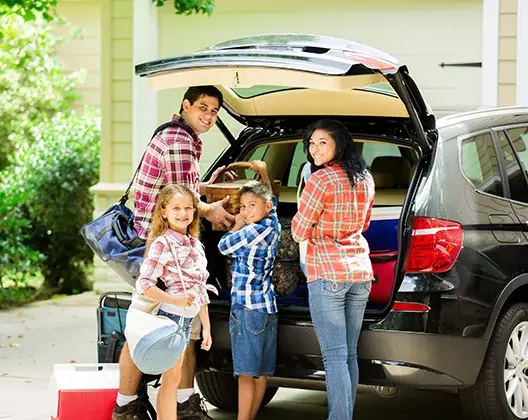 FAQs
At what distance does the GPS tracker for cars work?
The tracker works over any distance and has an unlimited range. You can track your car even from the other side of the world - and in more than 100 countries.
How does the autoaid GPS tracker work?
The tracker is simply plugged in and automatically searches for the best available cellular network to transmit your car's location anywhere. For all cars and light commercial vehicles approx. from year of manufacture 2000.
Can I also use the autoaid GPS tracker for my company fleet?
Yes, simply buy several autoaid GPS trackers and equip all your vehicles with them to keep an eye on the fleet in a unified app. If needed, you can always upgrade to our full fleet management autoaid ADVANCED with even more features and vehicle data.
What do I have to do to continue using the GPS Tracker after the first year?
We will notify you in time before the end of the first year that you can buy new SIM data volume for only 39 €/year to use the autoaid GPS tracker without interruption for the next year. Besides the SIM card, there are no subscription fees or hidden costs.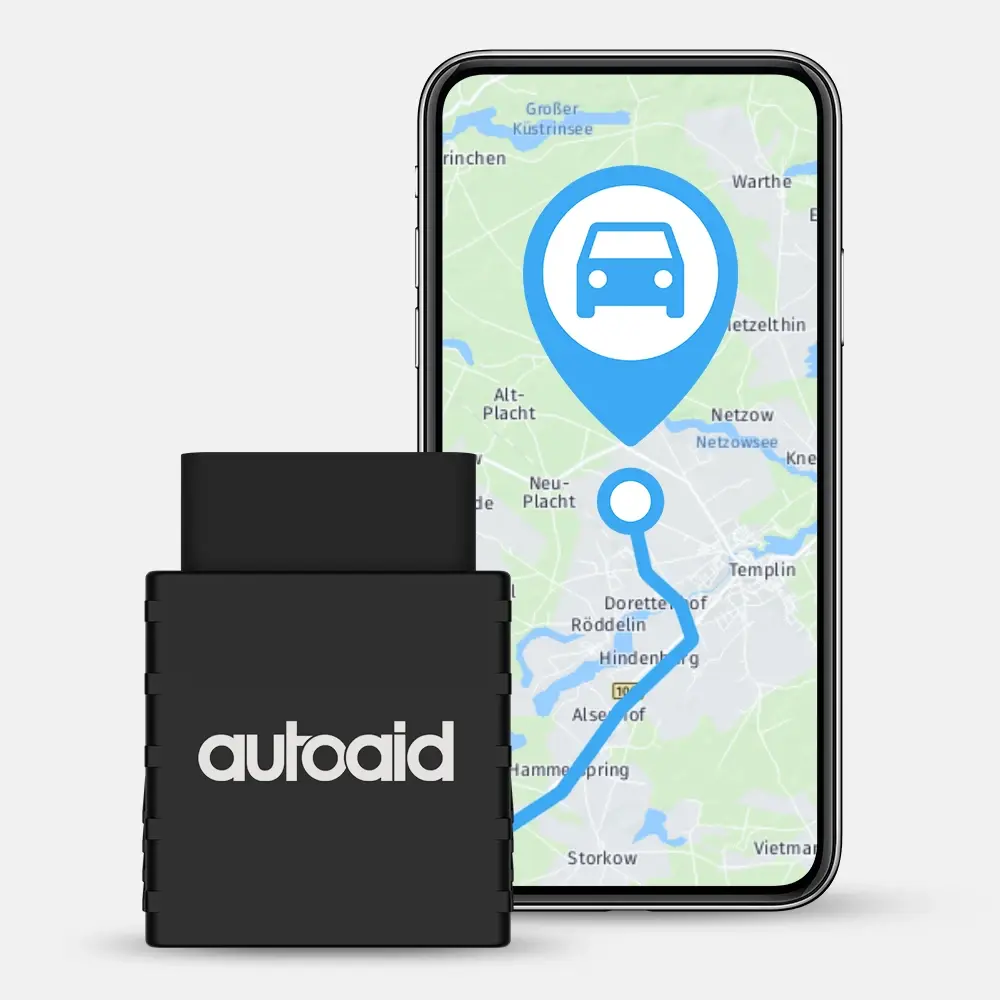 only $55.00

in Germany
Free shipping

in 1-2 working days
Shipping with DHL

return policy
30 days

shipping
Plastic free